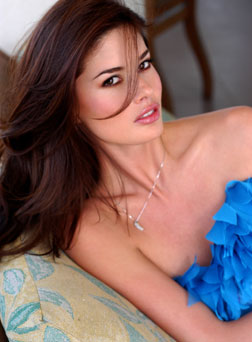 Miss Ecuador: Susana Rivadeneira

Art & Pageantry
Miss Universe in Ecuador
By Paula Davis

The 2004 Miss Universe Pageant will be broadcast live from Quito, Ecuador this coming week. Over 70 countries are represented to compete for one of the most coveted titles in the beauty pageant industry. Daisy Fuentes, who has hosted the pageant since 2001, and Billy Bush will be hosting during the broadcast Tuesday June 1st on NBC. Contestants will be judged in evening gowns and interview categories while Endless Sun swimwear will be worn by the contestants in the ever popular swimsuit portion of the event.

Special Feature:
ArtsyStuff Magazine Miss Universe International Swimsuit Review

Viewers are asked to vote for Miss Congeniality at NBC's Website. The winner will be broadcast live during the event.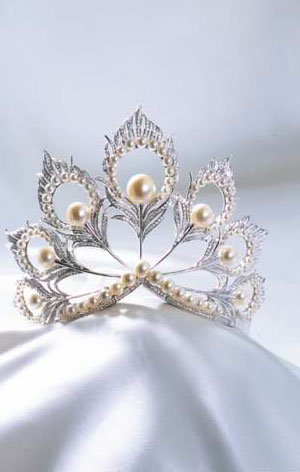 Mikimoto Crown is valued at $250,000
Among the prizes which will be received by the winner of the event are:
The new MISS UNIVERSE will be crowned with the Official MISS USA diamond and pearl crown by MIKIMOTO, valued at $250,000.

* A year long salary as MISS UNIVERSE
* Specially designed MISS UNIVERSE cultured pearl tiara valued at $20,000 from Mikimoto
* A New York City apartment for the year of her reign, complete with laundry service and ground transportation.
* Personal appearance wardrobe
* A $5,000 cash prize and an assortment of cosmetics from Cover Girl
* A $10,000 shopping spree, courtesy of ShopNBC, the premiere shopping network of MISS USA 2004
* Preciosa Crystal trophy valued at $3,500
* A crystal chandelier from Preciosa valued at $4,000
* An assortment of Preciosa crystal figurines valued at $600
* A two year scholarship valued at $45,000 from The School for Film and Television in New York City

Miss Ecuador
Susana Rivadeneira
Video:

* A swimsuit wardrobe from Endless Sun
* A $2,000 cash prize from Endless Sun Swimwear
* Personal Services including a year-long membership to Reebok and year-long pampering at New York City's John Barrett Salon
* A shoe wardrobe from Nina
* Leather bound modeling portfolios by leading New York City fashion photographer Fadil Berisha


Ecuador From the
Center of the World
The Video:

* Casting opportunities and professional representation by the Miss Universe Organization
* Extensive travel opportunities with a personal travel manager representing sponsors and charitable partners
* Access to various New York City events including movie premiers and screenings, Broadway shows and launch parties
* A professional CD Rom of interviews and appearances
* Consultation with stylist Billie Causieestko and access to an event wardrobe from leading fashion designers
* Professional public relations media training
* Professional media / public relations representation by Planet PR in New York City
* Complimentary teeth whitening at one of BriteSmile?s Spa Centers
* Year Long dermatology and skincare services services provided by Dr. Cheryl Thellman-Karcher



Click on image below to download a Hi-Res Image of several Candidates Poolside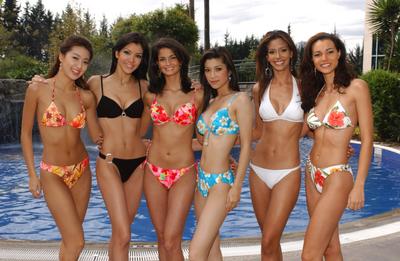 Filename: UNI04_2624_bg.jpg
Size: 3,008w by 1,960h. 1,109,799 bytes Date: 05/22/2004

Yoon-Young Choi, Miss Korea Universe 2004, Valia Kakouti, Miss Greece Universe 2004, Shermine Shahrivar, Miss Germany Universe 2004, Morakot Kittisara, Miss Thailand Universe 2004, Alba Giselle Reyes Santos, Miss Puerto Rico Universe 2004, and Christine Straw, Miss Jamaica Universe 2004, pose in their Endless Sun Swimsuit at the JW Marriott Hotel in Quito, Ecuador on May 24, 2004. They will compete for the title of Miss Universe 2004 during the LIVE NBC broadcast of the 53rd annual Miss Universe competition on June 1, 2004 at 9 PM (ET/delayed PT). ho/Miss Universe L.P, LLLP