Art & Modeling
My daughter is a 13-year-old Internet Model
Paula Davis

How often do you hear about a young model that was taken advantage of by an agent or photographer? Driven by an industry well known for it's ravenous appetite for new talent or "new faces", situations like this happen often.

Peddling opportunities and hopes of fame seems to be a frequent pitch in newspapers, radio and television ads. You only have to do a search for the words "modeling scams" and you'll be flipping through over 4,000 results.

With that many scams around not to mention the online pervert or two, we were surprised to hear about mother who let her 13yr old daughter model on the Internet.

It seems the press is very quick to jump on news about someone taking advantage of our young but they seem to forget that for every bad agent or business, there is an agent or business that is worthy of praise. With all the alarming press about modeling scams it would be refreshing to hear about a young model that didn't get ripped off or taken advantage of.


Marissa St. Croix (content link) Model Portfolio included- Marissa St. Croix in Casual Teen Fashions, Bikini Fashions, Street Fashions.


We didn't have to look far to find an example. It came to us in the form of a letter to our editor. My daughter is a 13-year-old Internet Model, it read. We don't know of many mothers who would be bold enough to admit that she lets her 13-year-old daughter model on the Internet. From there we were taken into her world from a unique perspective.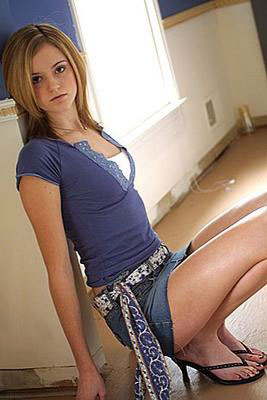 After some investigation, we've found that positive news about teenage modeling on the Internet is not hard to find. The Internet opened as many opportunities for the persons who use it for good as those who use it for bad.

Internet pornography is the greatest concern for anyone who thinks about letting their child model as an Internet Model. It appears that most companies producing Internet Modeling sites have a built in challenge to overcome the automatic reflex to associate Internet Modeling with Internet pornography. But many reputable agencies use the Internet for Modeling.

Well known Modeling agencies have been using the Internet to showcase their Models well before the amateur modeling sites developed. Ford Modeling agency, Wilhelmina Modeling agency and Casablanca Modeling are just a few. It was just a matter of time before the smaller modeling agencies and the entrepreneurial models themselves began to see the advantage of having their modeling material on the Internet. As form of marketing, amateur model sites allow browsers to preview the models to entice them to join for a small fee.

Many models fund there web sites with forms of membership with reoccurring monthly credit card fees. In return, the customers are able to view the newest model portfolio wearing various forms of fashion including the always popular bikini shoots.

Many modeling sites contain pictures considered racy. But you only have to go to the local teen fashion store to see that the fashion industry promotes racy clothing for the teen markets. Calvin Klein caused a storm of controversy when he had Richard Avedon photograph a pubescent Brooke Shields for his 1979 jeans campaign under the slogan, "You know what comes between me and my Calvins? Nothing." Abercrombie & Fitch, a clothing store that markets teen fashion, featured nude models in suggestive poses in their catalogs. The catalog comes enclosed in shrink-wrap and stamped XXX; you must be 18 to buy a copy.
It is no surprise to see that the engine driving the teen amateur modeling market are the customers and the fashion industry appetite for the young and the beautiful. This is the industry driving the need for models and pushing the envelope for new talent and new marketing trends.
It is also no surprise that the young models are now controlling their own fate by removing the dependency on outside agents and producers and producing their own amateur modeling world.

Internet Modeling for a 13 yr old. Is it good or is it bad? You be the judge from this alarmingly candid and sometimes heart warming letter by a mother who tells us that My Daughter is a 13 year old Internet Model.